The current stall in Bitcoin's rally is causing some uncertainty among traders and investors. This trading signal, which was last seen before the token's record run, is widely regarded as a key indicator of future price movements. However, with the recent decline, it is unclear whether the signal will be formed, and if so, what impact it will have on the price of Bitcoin.
Many analysts believe that the cryptocurrency market is still in a bullish phase, and that any downturns should be seen as temporary corrections, rather than a sign of a more significant trend reversal. Despite the recent drop, the overall trend for Bitcoin remains positive, and many experts predict that the token will continue to see growth in the coming months.
Bitcoin is still approaching a golden cross formation, where the 50-day average price surpasses the 200-day average. This particular pattern is considered a significant technical indicator and has been observed before significant bull runs in 2020 and 2021.
Golden Cross Formation: Key Indicator for Potential Bitcoin Price Increase
This formation is widely monitored by traders and investors as it is believed to indicate that a bullish trend is about to begin. If the golden cross does occur, it could trigger a surge in buying activity and drive up the price of Bitcoin. However, it's worth noting that the formation of a golden cross is not a guarantee of future price increases, and other factors, such as market sentiment and economic conditions, also play a role in determining the direction of the market. The approach of a golden cross is seen as a positive sign by many in the cryptocurrency community, and many are eagerly awaiting its formation to see what impact it will have on the price of Bitcoin.
According to Sean Farrell, head of digital-asset strategy at Fundstrat Global Advisors, "most instances of a golden cross have resulted in favorable returns for Bitcoin and have taken place at crucial long-term turning points."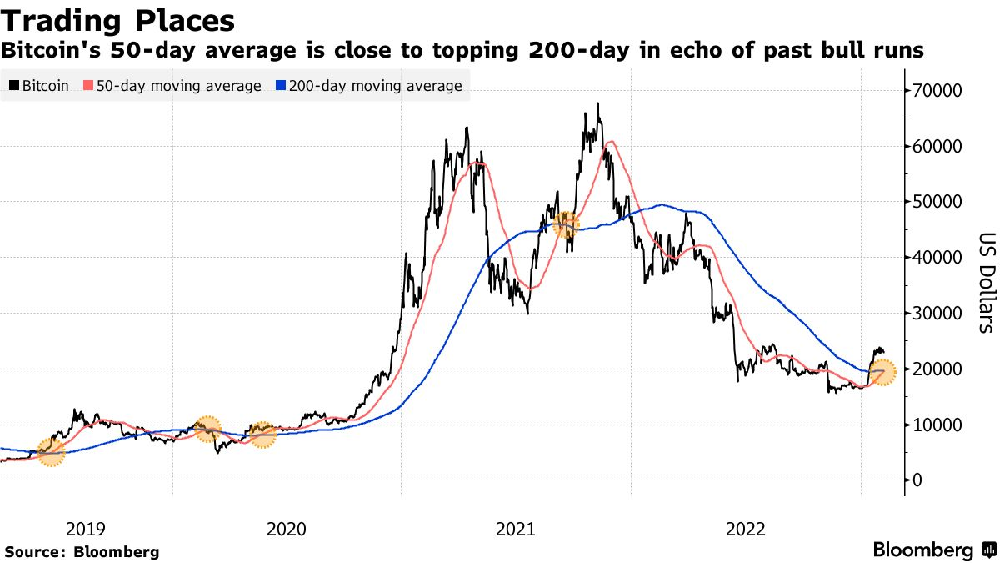 Copyright Attributed to Bloomberg.com
Bitcoin Sees 22% AVG Gain in 60 Days After Golden Cross
According to Bloomberg's data analysis, in the past five years, Bitcoin has seen an average increase of 22% in the 60 days following a golden cross. The notable difference between the present market conditions and the time period of 2020 and 2021, when some crosses led to all-time high rallies, is that central banks are now raising interest rates to combat inflation.
The recent strong US jobs report on Friday diminished the hopes of a quick end to and potential reversal of such monetary policy tightening. This, in turn, impacted the January revival across global markets that was fueled by optimistic bets. This revival saw an upward trend for a variety of tokens, including major players like Bitcoin and Ethereum, as well as smaller ones like Axie Infinity and Decentraland.
According to John Toro, "If it remains true that the bond market continues to be leading for risk assets, the cryptocurrency market may take a breather until risk assets have appropriately repriced for higher yields".
Crypto Sector Struggles with Job Losses, Company Failures Amid Market Challenges
The digital asset industry continues to face ongoing challenges, not only from the aftermath of last year's major market downturn but also from the failure of companies such as FTX exchange. The crypto sector has seen a significant loss of jobs this year, with recent examples including 83 layoffs at the Bittrex platform and approximately 20% of the workforce at Protocol Labs, the developer behind the Filecoin token.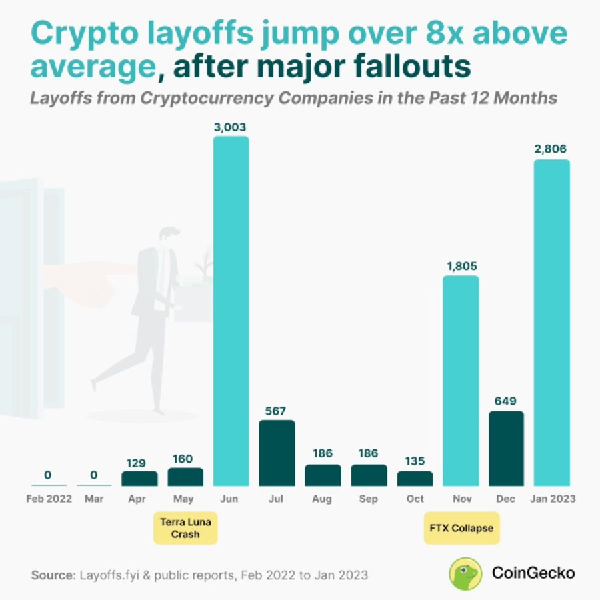 Copyright Attributed to CoinGecko.com
Data collected by CoinGecko shows that the number of crypto sector layoffs in January, reaching almost 3,000, was the highest in the past year, aside from June 2022 when there was a major impact from the $60 billion collapse of the TerraUSD ecosystem. These developments highlight the ongoing challenges and uncertainties facing the digital asset industry.
On Monday at 6:45 a.m. London time, Bitcoin, the leading token in terms of market value, remained mostly unchanged, trading at $22,800. Meanwhile, Ether, the second largest token, also remained stable. The performance of smaller coins such as Cardano and Polkadot, however, was more volatile, with fluctuations between increases and decreases in value.
Source: Bloomberg.com