Industrial metaverse has become the focal point of Iberdrola's innovative vision for the electricity sector. The Spanish multinational electric utility company recently declared an ambitious investment of 4,000 million euros in Research and Development & Innovation (R&D&I) by 2030, unveiled at their 9th Digital Summit.
Iberdrola Fuelling the Industrial Metaverse Revolution
The event, themed "Digital Experience: Empowering People, Driving Change," targeted the metamorphosis of the organization through digitalization. The digital summit featured not only the who's who of the industry, including giants like Amazon and Google, but also gathered over 1,500 of Iberdrola's employees at the company's campus in San Agustín del Guadalix, Madrid.
Ignacio Galán, the executive chairman of Iberdrola, praised the instrumental role of employees in the ongoing digital transformation and urged their continued active contribution to shaping the industrial metaverse. His assertion underpinned the company's faith in this substantial technological change and their existing lead in its implementation across various sections of the electricity industry.
The Collaborative Pursuit of an Industrial Metaverse
Iberdrola's summit became a crucible for brainstorming new ideas and applications, spearheaded by industry experts from diverse sectors, including AWS, Google, Accenture, Capgemini, Bitbrain, AstraZeneca, Ford, SEAT, Wallbox, Eraneos, and Nationale-Nederlanden. Academia was also represented by Begoña García-Zapirain, a professor at the University of Deusto.
One of the key topics of discussion was the industrial metaverse created by Iberdrola, a bold initiative aiming to merge real and virtual worlds, thus setting new standards in the electricity sector. The advanced solution proposed by Iberdrola allows office-based employees to virtually prepare their work, ranging from location identification to risk analysis. This virtual preparation significantly improves on-site work efficiency and safety by employing Mixed Reality, which overlays a virtual layer onto the real world for enhanced comprehension and real-time support.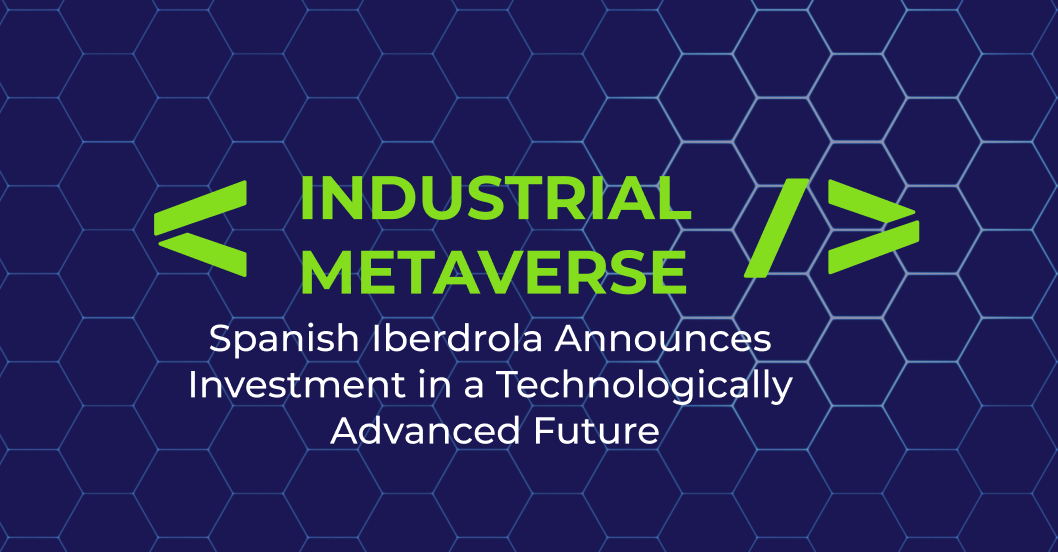 Beyond the Industrial Metaverse: Embracing Disruptive Technologies
Beyond the industrial metaverse, Iberdrola is striving to aggregate diverse resources like green hydrogen production, self-consumption solutions, home automation, and intelligent air conditioning and electric vehicle charging systems. Managed in unison through a Virtual Power Plant (VPP), these elements add up to the same capabilities as a conventional power plant, effectively pushing the boundaries of distributed asset management.
Simultaneously, the company is pioneering the application of Artificial Intelligence in the energy sector. Leading the European project IA4TES (Artificial Intelligence for Sustainable Energy Transition), Iberdrola aims to cultivate talent, forge alliances, and test highly disruptive AI technologies within the energy sector.
The Industrial Metaverse and Iberdrola's Commitment to Innovation
Iberdrola's pursuit of the industrial metaverse signifies a major part of their commitment to R&D&I. The company directs its innovation projects towards renewable energy, smart grids, digital transformation, green hydrogen, and the development of tailored solutions for its clients. The goal? To expedite the energy transition while tackling climate change, enhancing energy security, competitiveness, and sustainable job creation across the value chain.
As the world's private utility that invests the most in R&D&I, Iberdrola has committed 2,000 million euros in the past decade alone. With 250 ongoing innovation projects and a 15% increase in R&D&I investment in 2021, Iberdrola is at the forefront of integrating novel technological solutions to navigate a successful transition to a sustainable, competitive, and secure energy model.
Industrial Metaverse: The Way Forward
The role of the industrial metaverse in transforming how we prepare and execute work cannot be overstated. As demonstrated by Iberdrola's revolutionary model, it brings a new level of efficiency and safety, augmenting physical work with virtual tools. Its promise lies not only in enhanced productivity but also in opening up new vistas for employee engagement, collaboration, and creative problem-solving.
The industrial metaverse also holds immense potential in shaping a sustainable future. By uniting real and virtual worlds, it enables us to model and understand the implications of our actions on the environment in ways that were not possible before. This could become a critical tool in managing and mitigating the impacts of climate change.
Industrial Metaverse: A Tool for Sustainable Development
The role of the industrial metaverse in driving sustainable development is not limited to the environmental sphere. It also holds immense potential in economic terms. As Iberdrola's ambitious R&D&I investment demonstrates, the metaverse can fuel economic growth and job creation by opening up new sectors and industries, and promoting innovation and entrepreneurship.
The industrial metaverse is fundamentally about people and collaboration. It can help break down barriers, foster diversity and inclusion, and empower individuals and communities. This, in turn, can contribute to social sustainability by creating opportunities, enhancing well-being, and building social cohesion.
The potential of the industrial metaverse is immense. But its realization depends on our collective ability to innovate, collaborate, and drive change. As Iberdrola's 9th Digital Summit demonstrates, we have already embarked on this exciting journey. And with the continued commitment of all stakeholders, we can look forward to a future that is not just technologically advanced but also sustainable, inclusive, and empowering.
Source: nationworldnews.com