As the digital revolution continues to transform industries, Mastercard has stepped up to the plate with its latest offering: a free Music Pass NFT drop. Unveiled during the annual NFT NYC conference, this cutting-edge digital collectible is an integral part of Mastercard Artist Accelerator program. By incorporating blockchain technology and Web3 tools, the Music Pass NFT aims to transform the music industry and provide a wealth of unique benefits to its collectors.
A Limited Opportunity: Free Minting of Mastercard Music Pass NFT
Music enthusiasts and collectors should take note: Mastercard Music Pass NFT is available for free minting until the end of April. The drop takes place on the Polygon network, a prominent Ethereum scaling solution that has captured the interest of major brands like Starbucks, Nike, and Reddit for their various Web3 endeavors.
Non-fungible tokens, or NFTs, are blockchain-based digital assets that establish proof of ownership, authenticity, or membership. As the music industry evolves, artists and record labels have been quick to integrate NFT technology into their marketing campaigns and fan outreach initiatives. By releasing music through NFTs or offering streaming royalty shares to holders, musicians are capitalizing on the opportunities presented by this innovative technology.
Image credit: artistaccelerator.mastercard.com
Perks Galore: Mastercard Music Pass NFT Holders' Exclusive Privileges
Owning a Music Pass NFT opens doors to a host of exclusive features and benefits. Holders gain access to an AI-powered music generator app, which combines the power of artificial intelligence with creative expression. Furthermore, collectors can delve into educational materials, exploring the intricacies of blockchain, NFTs, and other digital technologies that are shaping the music industry.
Mastercard is hosting a virtual showcase event in June, where holders can witness firsthand the talents of artists participating in the company's accelerator program. This program is designed to empower artists by teaching them how to leverage Web3 technology and navigate the rapidly changing digital landscape.
Mastercard venture into NFTs extends beyond the Music Pass NFT drop. Previously, the company collaborated with renowned soccer coach José Mourinho to launch a collectible NFT. Mastercard has also partnered with Polygon and Web3 startup Hi to create customizable debit cards, each featuring a corresponding NFT collectible.
A Dynamic Roster of Artists and Mentors in the Accelerator Program
The Mastercard Artist Accelerator program is home to a diverse array of participants, including Grammy Award-winning artist Cocoa Sarai, R&B singer Young Athena, Latin Grammy nominee Manu Manzu, Nigerian recording artist LeriQ, and musician Emily Vu. The program's mentors are equally impressive, featuring Polygon Head of Business Development Brian Trunzo, rapper and Zora Head of Programming Latashá, dancer and content creator Nife, Ledger Chief Experience Officer Ian Rodger, and producer/songwriter Tushar Apte.
After the virtual showcase event spotlighting artists from the accelerator program, Mastercard intends to maintain its commitment to Web3 innovation. The company's dedication to exploring new tools, constantly testing and learning, and identifying novel opportunities for innovation demonstrates its vision for a future rich with technological advancements.
Mastercard Music Pass NFT is a testament to the company's pioneering spirit in the realm of digital collectibles. By offering unique benefits to its holders, the Music Pass NFT not only enriches the experience of music enthusiasts but also fosters the growth of talented artists through the Artist Accelerator program. As the music industry continues to evolve, the integration of Web3 technologies like NFTs and blockchain promises to create even more opportunities for musicians and fans alike.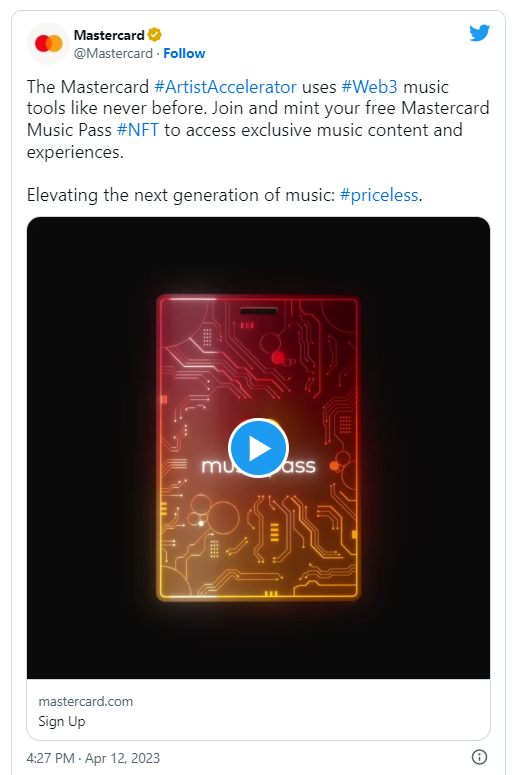 NFTs and the Broader Cultural Landscape
The impact of NFTs on the music industry is just one example of the broader cultural shift taking place as a result of digital innovations. The worlds of art, fashion, gaming, and sports have also been transformed by the introduction of NFTs, which have quickly become a prominent feature of the contemporary cultural landscape. As the popularity of NFTs continues to grow, so too does the potential for further disruption and innovation within these creative spheres.
The Mastercard Music Pass NFT is emblematic of the ongoing fusion between technology and creative industries. By harnessing the power of blockchain and Web3 technologies, Mastercard has taken a bold step forward, demonstrating the potential of NFTs to not only enhance the music experience for collectors but also support the careers of participating artists.
As we look to the future, it's clear that the digital revolution will continue to shape and redefine the cultural landscape in unexpected ways. Mastercard Music Pass NFT is a prime example of how companies can embrace emerging technologies to create innovative and transformative offerings that enrich the lives of both creators and consumers.
In conclusion, the Music Pass NFT represents a significant milestone for Mastercard and the music industry as a whole. Its integration of blockchain technology and Web3 tools has the potential to reshape the music landscape, offering unparalleled benefits to collectors and providing invaluable support for up-and-coming artists. As Mastercard continues to lead the charge in Web3 innovation, we can expect even more groundbreaking projects that will redefine not only the music industry but the broader cultural landscape as well.
Source: https://decrypt.co/126253/mastercard-drops-free-music-pass-nfts-perks-holders