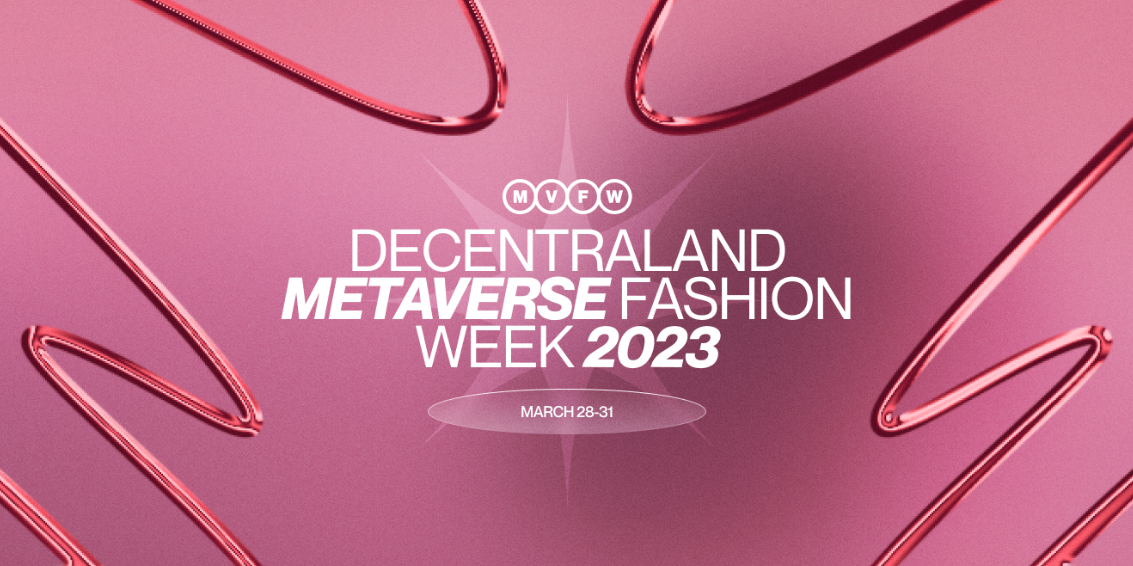 Decentraland community designers are teaming up with top fashion brands like Dolce & Gabbana, Tommy Hilfiger, COACH, adidas, DKNY, Vogue Singapore, Monnier Paris, DUNDAS, and Phygicode Dress with Rubin Singer, to present the cutting-edge of digital fashion at Metaverse Fashion Week 2023. This year's event will showcase the latest advancements in digital fashion, with a focus on Web3, blockchain technology, and NFTs.
With just two weeks to go until the start of Decentraland's second annual Metaverse Fashion Week (MVFW) event, taking place from March 28-31, the highly-anticipated event lineup and schedule have been released, offering a glimpse of what attendees can expect. This year's MVFW will showcase the potential of interoperability between open metaverses, pushing the boundaries of digital fashion. Co-hosted by Decentraland and UNXD, a leading immersive art & culture platform, in collaboration with the Spatial and OVER metaverses, MVFW23 is set to bring together fashion enthusiasts from around the world to experience the latest innovations in digital fashion.
MVFW23: Bridging the Gap Between Tradition and Innovation
Dr. Giovanna Graziosi Casimiro, Head of Metaverse Fashion Week at the Decentraland Foundation, expressed her excitement for the upcoming event, stating, "This year we are incredibly honored to continue the legacy of Metaverse Fashion Week. We are seeing the return of many luxury fashion houses, and also the emergence and elevation of digitally native fashion. We are excited to see the world's greatest fashion minds engaging in digital fashion and exploring what it can mean for their brands and their communities." With Metaverse Fashion Week 2023 just around the corner, it's clear that the fashion industry is embracing the potential of digital fashion like never before.
Themed "Future Heritage", Metaverse Fashion Week 2023 (MVFW23) aims to bridge the gap between emerging digital designers and established traditional fashion institutions, showcasing how the future of contemporary fashion lies in the digital realm. With a focus on Web3, decentralized technologies, and NFTs, the event will highlight how these emerging technologies can transform the fashion industry.
A Sneak Peek at Global Fashion Brands Showcasing Their Virtual Storefronts
MVFW23 is set to span across multiple metaverses, with Decentraland's Luxury District, developed by Metaverse Group, serving as the hub of digital fashion. This year, global fashion brands will showcase their virtual storefronts in the Fashion District, offering a glimpse into the future of fashion. Here's a sneak peek at what to expect:
Dolce & Gabbana's metaverse space will feature an exhibition of the winning designs from its Future Reward competition, spotlighting emerging talent and supporting them with the creation of a new co-branded digital Wearables collection.
Tommy Hilfiger's MVFW experience will include daily product drops, AI-generated fashion, unique collaborations, and a community competition, with the winner hand-picked by Mr. Tommy Hilfiger himself.
Miami Fashion Week (MIAFW) will make history as the first globally recognized Fashion Week to participate in a digital fashion week, hosting events, panels, and runway shows at MIAFW's L'Atelier in Decentraland.
DUNDAS is partnering with DressX for Wearables creation and UME for avatar design, showcasing the latest looks from Paris Fashion Week and offering a new range of Wearables.
Amorepacific will introduce "New Beauty Land," inspired by its Seoul headquarters.
Ben Bridge, the popular US jeweler, will open its first store in the metaverse, featuring a quest with exclusive Wearables that come with in-store benefits.
DKNY will have a dedicated venue, DKNY.3, featuring an art gallery, a pizzeria, and a rooftop lounge. DKNY will also bring its SoHo landmark wall into the metaverse with a special Web3 creation from an MVFW neodesigner.
Copyright Attributed to DecentraLand.org
A Look at the Innovative Activations and Collaborations
Fashion brands, technology pioneers, and community-designed activations will be on display in various locations throughout the week at MVFW23. Here's a preview of some of the highlights:
"Dear Vivienne" – The Digital Design Community Pays Tribute to the Punk Queen of Fashion: Vuelta has created an immersive installation in honor of the late fashion icon Vivienne Westwood.
adidas is set to bring an exclusive, community-focused experience that showcases their collection of 'adidas virtual gear', the first-ever collection of digital-only apparel from the three stripes.
COACH is teaming up with several Web3 artists to create a special experience, while Alo is bringing yoga and meditation sessions to the metaverse.
Diesel and HAPE will throw an interactive virtual party featuring multiple wearable NFT airdrops.
Kraken will return with a fashion-themed infinite NFT gallery showcasing leading digital identity and avatar designs.
Vegas City has partnered with Perry Ellis for an exclusive set of Wearables that will be exhibited in a virtual showroom.
Clarks will showcase the 'Clarks Arcade,' an interactive funfair and rooftop nightclub.
OVER and Decentraland have partnered to run a cross-metaverse Wearable design competition with a hybrid AR/IRL catwalk in Milan.
Dragon City will host composer Alastair White and his latest fashion opera in the Metaverse Opera House.
The Museum District will present the virtual counterpart of the Colon Theater in Buenos Aires.
MetaTokyo will welcome digital fashion designers influenced by Japanese culture.
Cash Labs Gallery will feature exhibitions from Nick Knight/SHOWstudio and The Wall Group, as well as interoperable experiences by Vogue Singapore and Artisant.
Digital Fashion Houses and Curators
MVFW23 is set to celebrate the Decentraland community's creations, partnering with renowned digital fashion houses and curators. Here's a sneak peek at some of the collaborations:
DRESSX, the leading company in digital fashion and web3, will bring 3D fashion brands Blade Runway and Injury to the DRESSX flagship store in Decentraland, as well as distributing two unique Wearables.
Phygicode is launching "Phygicode Dress," a collaboration with Decentraland community creators that re-imagines an iconic dress by renowned fashion designer and Phygicode member, Rubin Singer.
The Fabricant will bring two community creators to MVFW and launch the brand's first custom Emote to celebrate the WHOLELAND collection.
FASHION FUTURE AWARDS will focus on the pioneer forces in China's fashion and creative industries.
Altr, a digital fashion platform, will highlight 10 different cultures through the brand's "Digital Meets Culture" initiative.
The Institute of Digital Fashion will debut the Wearable "IoDF Emblem of Change" to raise awareness about the unsustainable consumption of physical fashion.
House of Web3 from Metagolden is a physical/digital fashion house whose collections come from its community of creators.
Meta Fashion House will feature 3DMetaDress, a physical 3D printed couture gown made up of 300 hand-drawn 3D printed names of women in web3 and STEM.
Vogue Singapore will announce the winners of their digital fashion competition.
House of Barth, HBO's The Hype Season 2 winner Winston Bartholomew Holder III, will bring a collection that represents the multiple masks one wears daily.
Emote Contests and Fashion Shows
As MVFW23 approaches, the excitement for all the innovative activations, collaborations, and fashion shows is growing. With the involvement of leading digital fashion houses and curators, as well as the Decentraland community's own creativity, this year's event promises to push the boundaries of what's possible in the digital fashion realm. And for those looking to make a splash on the runway, the Emote contests and community fashion show offer the perfect opportunity to strut their stuff and show off their latest Wearables. It's clear that MVFW23 is the place to be for anyone interested in the future of fashion in the metaverse.