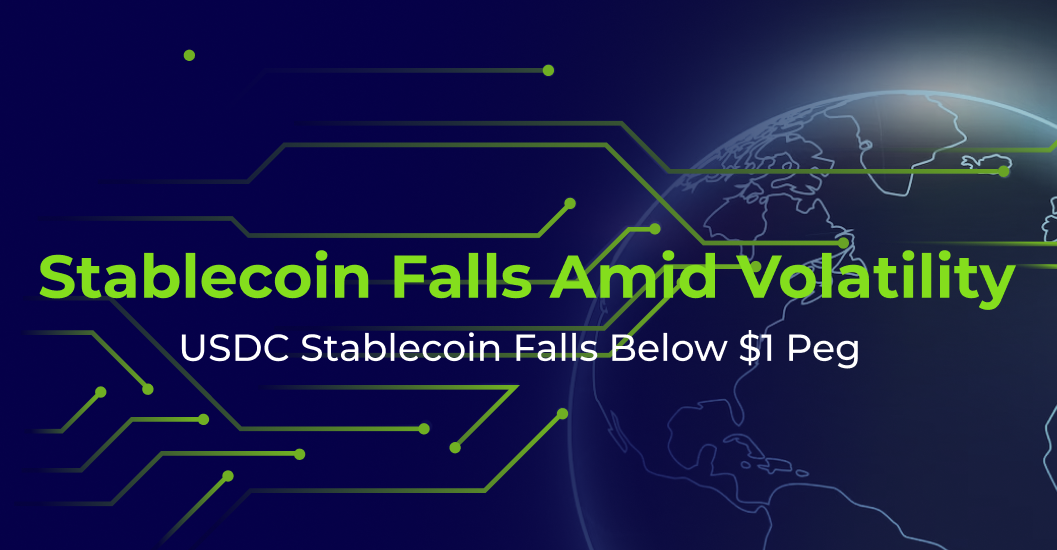 The USDC stablecoin, which is built on the Ethereum blockchain, has fallen below its $1 peg at an alarming rate, dropping to as low as $0.89 amidst a wider market downturn in cryptocurrencies like Bitcoin. With panic mounting after the collapse of Silicon Valley Bank, a key banking partner in the cryptocurrency industry, the weekend is expected to bring continued volatility for USDC and other crypto assets. Circle, the issuer of USDC and a major player in the Bitcoin and blockchain space, is facing challenges to its reserve position due to SVB's failure, which has underscored the importance of having robust banking relationships in the crypto industry.
USDC at Risk as Silicon Valley Bank Collapse Raises Concerns
Coinbase, the largest US-based exchange, is a member of the consortium responsible for the USDC stablecoin. However, with USDC holding $3.3 billion at the recently failed Silicon Valley Bank, Coinbase's stock price could face downward pressure upon market. Circle, the issuer of USDC, disclosed in a tweet that a quarter of USDC's reserves are held as cash with seven banking partners, including Silvergate and SVB. The rest of USDC's reserves are in money market funds comprised of short-dated US Treasuries held at BNY Mellon Bank.
Tech startups and venture capitalists make up the majority of USDC depositors. Unfortunately, the funds they have deposited are not adequately insured by the Federal Deposit Insurance Association (FDIC), which only provides coverage up to $250,000. Following a run on deposits totaling up to $45 billion, the California Department of Financial Protection and Innovation took control of Silicon Valley Bank and appointed the FDIC as its receiver. As the second-largest stablecoin in the cryptocurrency industry, USDC plays a critical role in the sector's infrastructure.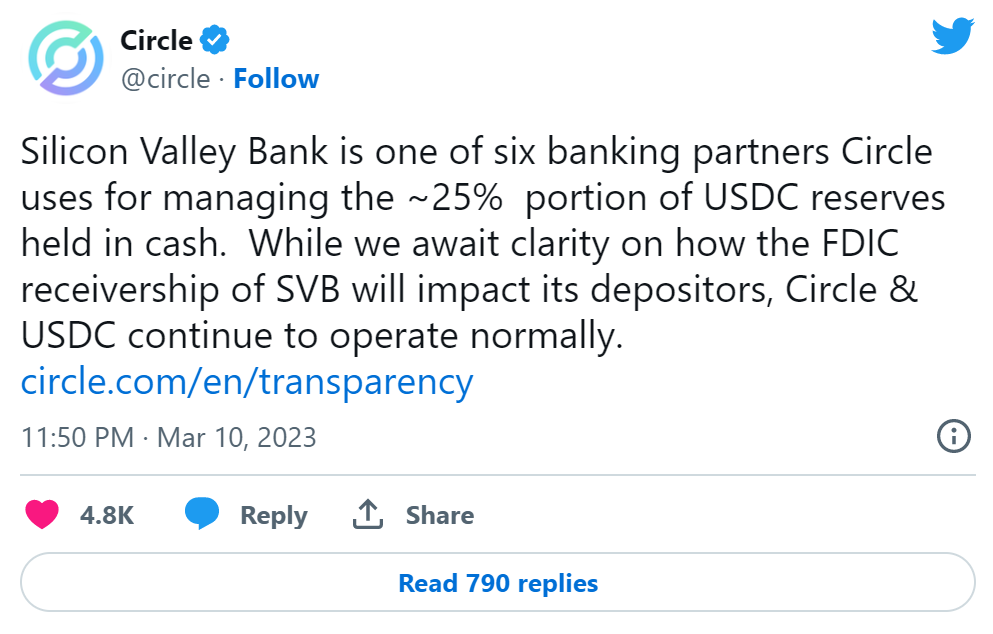 SVB Forced to Sell Long-Dated US Treasuries at a Loss, Leading to $1.8B Loss
The difficulties for Silicon Valley Bank began when it was compelled to sell its long-dated US Treasuries at a loss. SVB had been utilizing customer deposits to purchase long-dated US government bonds, which it planned to hold to maturity for a dependable yet small return, as is commonly practiced in the fractional banking model of modern banking. However, to fulfill deposit withdrawal requests, SVB was required to sell these bonds at a loss. The Federal Reserve's increase in interest rates caused the bond values to drop, as bond yields and prices have an inverse relationship. Consequently, SVB's assets were worth less than what it had paid for them, leading to a loss of $1.8 billion.
Typically, unrealized losses on bonds held to maturity would not be problematic. However, if these bonds are sold under duress, the unrealized losses become actualized. In order to cover these losses and expected future losses, Silicon Valley Bank (SVB) opted to raise equity. This decision raised concerns among the bank's depositor base, prompting alarm bells to sound. SVB has a total of $175.4 billion in deposits, out of which $151 billion (85%) are uninsured. The advice from Peter Thiel's Founders Fund to withdraw funds was the final blow for SVB, as bank runs are difficult to prevent.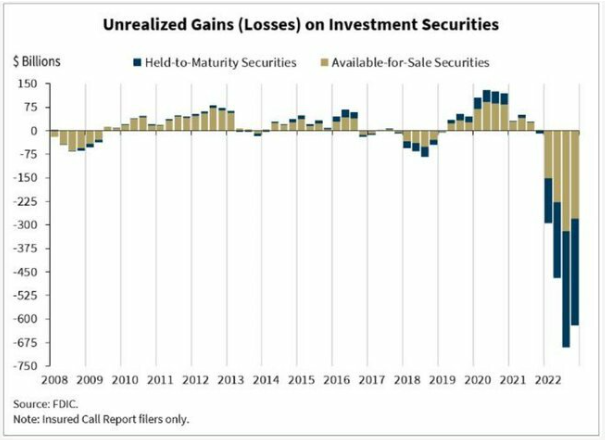 Bitcoin Holds Steady Amidst Market Volatility
The recent events at Silicon Valley Bank have raised concerns for the banking system as other financial institutions may also have unrealized losses on their balance sheets, as illustrated in the chart provided by the FDIC. This development may attract short sellers' attention, making depositors anxious about the safety of their funds. Shares of California-based First Republic Bank, which primarily caters to affluent clients, declined by up to 15% on Friday, and other regional banks have also faced pressure. While the big banks are likely to be well-capitalized and less vulnerable, regulators may have overlooked the smaller institutions, as evidenced by the cases of Silvergate and SVB.
Although news of the Silicon Valley Bank's failure and Silvergate's struggles could have prompted a sell-off, the price of bitcoin has not significantly declined, perhaps indicating that traders have already reacted to the earlier news. Nonetheless, the cryptocurrency market may experience more volatility in the coming days. Despite this, bitcoin has shown resilience, having rallied by 64% from its recent low and only retreating by 20% thus far. Given these developments, traders may perceive bitcoin as a more stable asset than USDC. Moreover, bitcoin holders may find reassurance in the fact that the cryptocurrency has a significant support zone around the $16,000 mark, as indicated by the red volume profile line.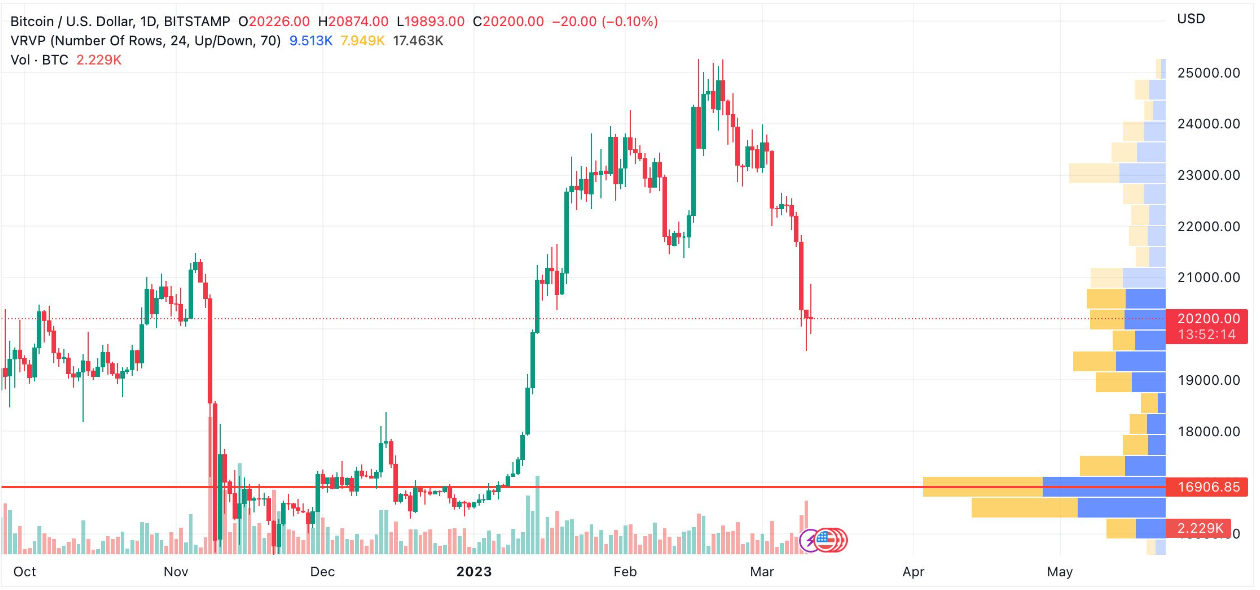 USDT Gains Traction as USDC Falters
The news of USDC's reserve exposure to Silicon Valley Bank prompted traders and cryptocurrency firms to exit their positions in the stablecoin and switch to Tether (USDT). While USDT has never undergone a full audit of its reserves, it is now perceived as a safer option than USDC. As a result of this buying pressure, USDT's value has moved positively and is currently valued at $1.01. Other stablecoin issuers, such as Gemini, which issues Paxos, and Binance, the issuer of BUSD, have released statements confirming that they have no exposure to Silicon Valley Bank.
Paolo Ardoino, the Chief Technical Officer of Tether, has issued a statement asserting that USDT has no exposure to Silicon Valley Bank. The impact of USDC's instability has extended beyond its own market, potentially transforming the crypto winter into an Ice Age crisis. Decentralized exchange Curve has encountered a significant imbalance in its 3Pool stablecoin pool. Under normal circumstances, DAI, USDC, and USDT would have been held in equal proportions. However, only 6% is now in USDT, while USDC and DAI each account for over 40% of the pool.