Web3 digital platform initiatives are capturing the attention of some of the biggest names in entertainment and sports. The recent announcement of Electronic Arts (EA) partnering with Nike on its innovative .Swoosh platform is a testament to this shift towards a Web3-enabled future.
EA and Nike Unleash the Power of the Web3 Digital Platform
The alliance between EA and Nike aims to pioneer "immersive experiences" and "brand new levels of customization" within EA's sports gaming realm. The Web3 digital platform .Swoosh, now in its beta stage, utilizes blockchain technology to host a myriad of virtual creations.
Nike aims for .Swoosh to become "an inclusive, equitable place for athletes, creators, collectors, and consumers to design and own the future of sport". The announcement promises an unprecedented marriage of sport and technology, where users can actualize their creative visions.
The partnership is poised to introduce select .Swoosh virtual creations in future EA Sports titles, providing members and players unique opportunities to express their identity through sport and style.
While the press release didn't specifically mention Non-Fungible Tokens (NFTs), it leaves room for speculation about potential crossover. This comes on the heels of .Swoosh's recent launch of a collection of virtual sneakers, essentially NFTs, that owners can choose to unbox at will.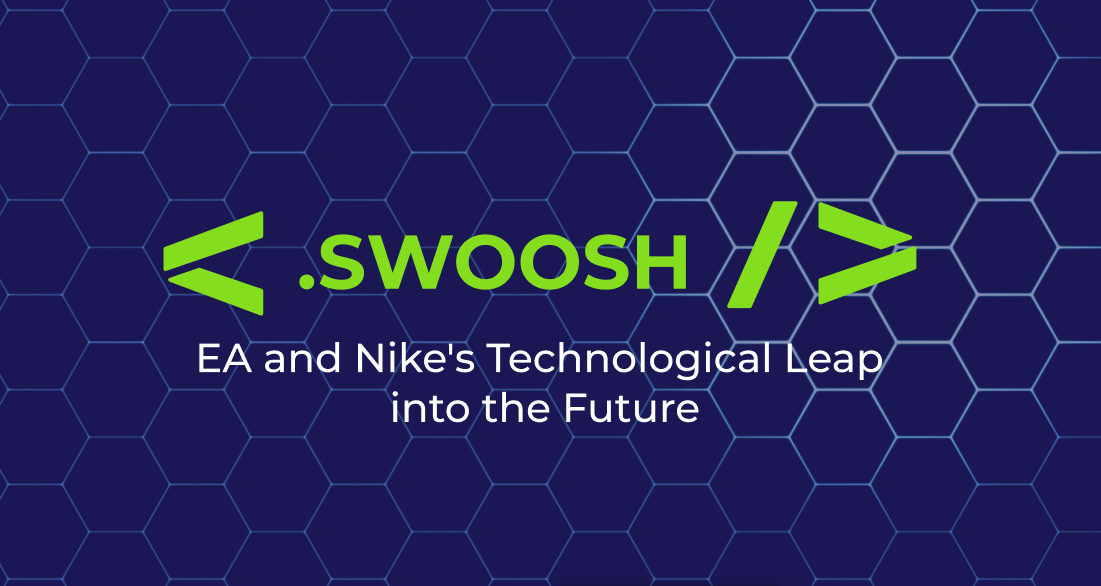 The Impact of Web3 Digital Platform Innovations on Fandom
The decision to blend the worlds of virtual sports and Web3 digital platforms illustrates the commitment of EA and Nike to innovation and creativity.
Ron Faris, GM of Nike Virtual Studios, shared, "Nike and EA Sports share a commitment to innovation, creativity, and excellence, and we are thrilled to partner with them." He added that the collaboration would enable the creation of incredible new experiences for the .Swoosh community and EA Sports' considerable fan base.
Echoing this sentiment, Andrea Hopelain, SVP of Brand for EA Sports and Racing, expressed enthusiasm for leading the next evolution in sports fandom. She stated that the collaboration will "bring creativity and self-expression to the forefront for fans as they connect, compete, and share their love for sport."
As a Web3 digital platform, .Swoosh is setting the stage for an exciting new era where virtual and physical realities converge. This partnership between EA and Nike is likely to bring about a shift in the way consumers interact with sports brands and games, paving the way for a revolution in the digital sporting experience.
The strategic partnership between these giants signifies their commitment to driving progress and transforming the sporting world as we know it, harnessing the power of the Web3 digital platform. It also serves as a rallying cry for other industry leaders to consider their own potential in this Web3-enabled future.
Indeed, this collaboration may be an early glimpse of the tech-fueled transformation in the sports and gaming industries. The potential of Web3 digital platforms like .Swoosh in reshaping fan interaction, creativity, and brand engagement is significant and we eagerly await the wave of innovation this partnership will bring.
Advancements in Virtual Reality and the Role of the Web3 Digital Platform
With the Web3 digital platform, users are offered a glimpse into a future where real-world products are seamlessly integrated into the virtual realm. The idea of purchasing virtual sneakers or sports gear may seem far-fetched today, but with the progression of .Swoosh and similar platforms, this could soon be commonplace. These platforms allow for the creation and trade of digital assets, elevating consumer experience to a whole new level.
Nike's recent launch of virtual sneakers, essentially NFTs, on the .Swoosh platform underlines the potential for the Web3 digital platform to revolutionize consumer habits. While the partnership announcement with EA doesn't explicitly mention NFTs, there's certainly room for crossover, setting the stage for a virtual economy within the sports gaming world.
The core technology that powers the Web3 digital platform, blockchain, has far-reaching implications in the sports industry. By providing a secure, transparent, and decentralized environment, it opens up new avenues for fan engagement and monetization.
Blockchain's potential goes beyond just NFTs. The technology can be used for ticketing, merchandise authentication, and fan rewards programs, enhancing trust and providing a more secure and user-friendly experience. Moreover, with the integration of blockchain in sports gaming through platforms like .Swoosh, players can expect better security, ownership of digital assets, and a seamless experience.
The Future of the Sports Industry with the Web3 Digital Platform
The union of Nike and EA is set to unlock innovative and transformative experiences in the sports gaming universe. The Web3 digital platform's role in this evolution cannot be underestimated. It will help develop a more immersive, inclusive, and personalized sports experience that transcends physical boundaries.
As technology continues to evolve and Web3 digital platforms become more prevalent, we can anticipate more collaborations between major corporations in sports and gaming. These collaborations will bring about a significant change in the industry's landscape, where virtual creations and user creativity are at the forefront.
The recent announcement of EA's partnership with Nike and its Web3 digital platform, .Swoosh, is a landmark moment. It's a promising sign of the digital transformation that's rapidly taking place in the sports and gaming industry. Only time will reveal the full impact of this trend, but for now, it's safe to say that the future of sports gaming looks both virtual and extraordinarily promising.
Source: https://www.eurogamer.net/ea-partners-with-nike-on-its-web3-digital-platform-swoosh