The Web3 gaming ecosystem is about to get a significant boost with the upcoming public token sale of Neon Link, a pioneer in the field. Scheduled for July 13, 2023, at 13:00 UTC, this sale marks a significant milestone in the evolution of online gaming, connecting gamers, developers, and blockchain technology in an unprecedented way.
Neon Link: Shaping the Future of Web3 Gaming
Neon Link is no ordinary gaming platform. It's a vibrant, community-driven ecosystem that's taking Web3 gaming to new heights. With a robust network and its native NEONLINK token powering the ecosystem, Neon Link is bridging the gap between online gaming and blockchain technology.
But what does this mean for gamers and developers? Neon Link is more than just a platform; it's a revolution in online gaming. By leveraging the unique features of blockchain technology, it offers a seamless, inclusive, and exhilarating gaming experience.
The Neon Link Advantage: A Robust, Player-Centric Web3 Gaming Ecosystem
Neon Link's ecosystem, bolstered by the NEONLINK token and network, is reshaping the gaming landscape. Designed for gaming, the NEONLINK token supports fast transactions, governance, and staking, fostering transparency and player control. Meanwhile, the Neon Link network is built for high performance, capable of processing a staggering 35,000 transactions per second.
Notably, this ecosystem isn't limited to these features alone. From a non-custodial wallet and NFT marketplace to a decentralized exchange, block explorer, interoperability bridge, and much more, Neon Link ensures a comprehensive and dynamic gaming experience.
At Neon Link, community engagement isn't an afterthought—it's the very foundation of the platform. As a result, the community is actively involved in the growth of the ecosystem. With regular updates, Medium articles, rewards-based competitions, and funding events, Neon Link encourages active participation and input from its users.
Indeed, the community's support is evident from Neon Link's successful presale and funding rounds, with the testnet campaign distributing $2 million USD in NEON Coin to network testers.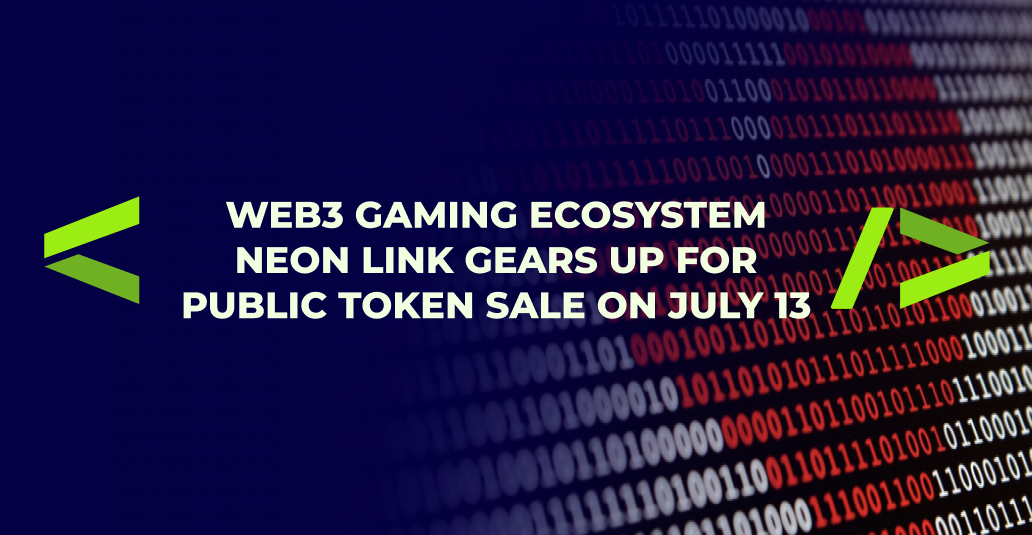 "Ascend the End" – The Next Big Thing in Web3 Gaming
Neon Link isn't stopping at building a platform; it's also creating games. With the successful completion of its initial funding rounds, Neon Link is set to release its first three games, including its flagship title, "Ascend the End." Launching on August 1, this third-person shooter promises an enthralling blend of strategy, survival, and blockchain gaming.
The NEONLINK public token sale, beginning on July 13, is a golden opportunity for those wanting to be part of the future of Web3 gaming. Following a 10-month vesting period post-sale, participants will receive 10% of their remaining tokens per month, making the sale an exciting prospect for gamers and investors alike.
Sale & Allocation Details: Everything You Need to Know
The public sale will see 80,000,000 NEONLINK tokens up for grabs. With a maximum deposit of $500 and a token price of $0.10, the total cap of the sale is $8,000,000.
How to Participate: Secure Your Spot in the Neon Link Journey
Neon Link aims to make its token sale accessible to all, supporting over 50 different wallets, including Ledger, Metamask, Coinbase, and more. Interested parties can connect their ETH or BNB Wallet to the Neon Link website for whitelisting.
With its public token sale, innovative platform, and exciting games, Neon Link is reshaping the Web3 gaming ecosystem, offering a future where the gaming community has a direct stake in their online gaming experiences. As the date of the sale nears, the anticipation grows – the future of Web3 gaming starts with Neon Link.
The world of gaming is poised for a significant shift, thanks to Web3 gaming platforms like Neon Link. Focused on reinventing the online gaming experience, Neon Link combines the transparency of blockchain technology with the thrill of online gaming. The aim? A vibrant, inclusive Web3 gaming ecosystem where gamers and developers can harness the power of blockchain for a more engaging, equitable gaming experience.
Harnessing the Power of Blockchain
The blockchain has emerged as a disruptive force across industries, and Neon Link is leveraging this innovative technology to redefine online gaming. The platform's blockchain network has already demonstrated its robustness, having processed 10 million transactions across 120,000 accounts in mere weeks.
In the hands of Neon Link, blockchain is more than a buzzword – it's the engine that powers a dynamic, community-focused Web3 gaming ecosystem. From delivering peak performance to enabling seamless transactions, the Neon Link blockchain network serves as a testament to the transformative potential of blockchain in gaming.
At the heart of Neon Link's vision is a commitment to empower gamers and developers. The platform's Web3 gaming ecosystem not only offers a wide array of features but also ensures a fair division of profits. By prioritizing transparency and player control, Neon Link is fostering a community where everyone, from gamers to developers, can benefit.
Neon Link's NFT marketplace offers gamers the chance to truly own in-game assets. Whether it's a rare skin or a powerful weapon, these items can be traded, sold, or held as investments, turning gameplay into potential profit. Similarly, the non-custodial wallet ensures users have full control over their assets at all times.
Creating Immersive Gaming Experiences: Ascend the End
The Neon Link Web3 gaming ecosystem comes to life in "Ascend the End," the platform's flagship title. This third-person, online shooter game represents a step forward in blockchain gaming, integrating tradable in-game items with compelling gameplay. As players navigate the apocalyptic setting, they can utilize various items to enhance their gaming experience – all while climbing leaderboards for exclusive crypto rewards.
Neon Link's upcoming public token sale represents a unique opportunity for gamers, developers, and investors. This sale isn't just about purchasing tokens; it's about investing in the future of gaming. With the release of NEON tokens into the wallets of participants, Neon Link is allowing a wider audience to share in the platform's growth and success.
Inclusivity and Accessibility
With a focus on inclusivity, Neon Link supports over 50 different wallets for the token sale, offering a seamless, hassle-free process for potential participants. This broad support reflects Neon Link's commitment to making the world of Web3 gaming accessible to all.
With its community-driven approach, innovative blockchain solutions, and exciting gaming titles, Neon Link is not just joining the Web3 gaming ecosystem – it's leading it. The public token sale on July 13 is more than a date on the calendar; it's the starting point for a revolution in online gaming. As Neon Link gears up for this milestone, one thing is clear: the future of gaming is here, and it's bright, bold, and blockchain-powered.
Source: bitcoin.com