iOS App Development
Expert iOS App Development: Custom Solutions Meeting Your Business Goals with Rapid, Secure, and User-Friendly Experiences.
Let's talk!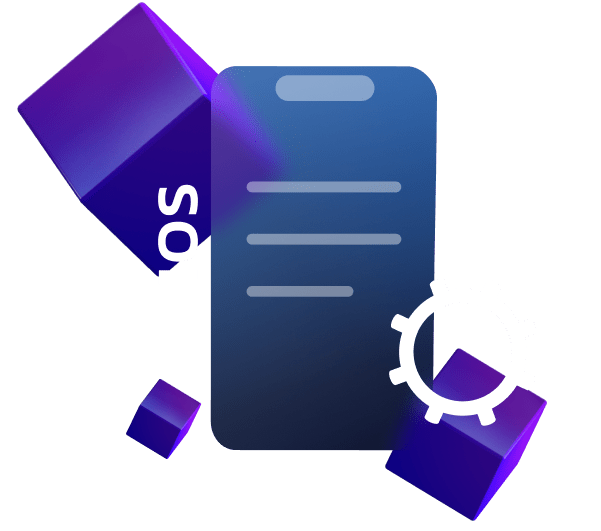 Developing iOS Apps Across a Spectrum of Industries:
Travel and Hospitality

Travel and Hospitality

Experience the future of travel with our iOS app development services. We offer smart room systems, comprehensive hotel apps, immersive AR & VR experiences, and Big Data solutions tailored for the travel and hospitality industry.

Sports & Teams

Sports & Teams

Elevate the sports experience with our custom iOS apps featuring advanced chatbots, IoT integration, beacons, geofencing, and more, designed to engage sports teams and their fans alike.

FinTech

FinTech

Transform financial services with our iOS app development, creating mobile banks, wallet apps, real-time fraud detection systems, and AI-powered chatbots for a seamless FinTech experience.

IoT Apps

IoT Apps

Delve into the world of IoT with industry-specific iOS solutions that seamlessly integrate with smart devices, enhancing efficiency and user experience in various sectors.

Construction

Construction

Revolutionize the construction industry with our iOS apps, featuring hazard detection, remote collaboration tools, and other AR functionalities for enhanced safety and efficiency.

Healthcare

Healthcare

Our iOS app development services for healthcare include advanced patient tracking, scheduling, notifications, Big Data solutions, and more, all designed to streamline healthcare management.

Insurance

Insurance

Redefine insurance services with our iOS apps, offering efficient claim management, timely alerts, AI integration, cloud solutions, SOS video features, and more for enhanced customer service.

Retail & eCommerce

Retail & eCommerce

Reimagine retail and eCommerce with our iOS app development, incorporating gamification, AR, navigation tools, Big Data analytics, and robust eCommerce platforms to elevate the shopping experience.

More
Shape Your Enterprise with iOS Solutions
iOS Apps Built for Results
Free Consultation
TRANSFORM YOUR BUSINESS WITH IOS APP SOLUTIONS
Enter the world of mobile technology with our iOS app development services. It's more than creating an app; it's about shaping a unique and engaging mobile user experience.

Imagine a platform where sophisticated design meets practical functionality, all designed for iOS devices. Our services offer customized solutions, easy-to-use interface designs, and compatibility with Apple's advanced ecosystem. Take your business to the next level with a standout mobile presence, ensuring an exceptional user experience and interaction.
show more
show less
Use Cases
Whether you need an app that excels on the iPad, elevates the iPhone experience, or maximizes the iWatch's potential, our team of adept iOS developers is ready to assist. From initial design to final delivery and continuous support, we're committed to creating applications that perform exceptionally across all Apple devices, enhancing both user engagement and efficiency.
Discover innovation with our iPad App Development services. Our team excels in creating apps that maximize the iPad's features, offering a perfect mix of functionality and design. From educational to business applications, our iPad apps are built to engage and enhance productivity. Our iOS app development services focus on delivering unique, user-friendly iPad applications, making your business stand out in the digital world.
Get in touch
Enhance your mobile strategy with our iPhone App Development services. We develop visually appealing and functional applications optimized for the iPhone. Suitable for both consumer engagement and business efficiency, our iPhone apps provide a smooth and intuitive user experience. Our expertise in iOS app development ensures your iPhone app is a valuable asset, boosting your brand's presence in the mobile market.
Get in touch
Redefine wearable tech interaction with our iWatch App Development services. We specialize in apps that fit the iWatch's unique capabilities, focusing on health, fitness, and smart notifications. Our iWatch apps are designed for optimal convenience and efficiency. Our iOS app development services aim to create iWatch applications that meet user needs and enhance their daily tech interactions.
Get in touch
FAQ
What Are iOS App Development Services?
iOS app development services encompass the design, development, testing, and integration of applications specifically for Apple's iOS platform, including iPhones and iPads. At VisibleMagic, we bring years of experience in delivering top-notch iOS app solutions, tailored to meet the needs of various industries with our deep understanding and expertise in this field.
What Do You Mean by iOS Development?
iOS app development refers to the process of creating applications for Apple's hardware, such as the iPhone, iPad, and iPod Touch. This involves writing software in programming languages like Swift or Objective-C, and then making these apps available on the App Store for users to download and enjoy. It's a comprehensive process that combines technical expertise with creative design to produce engaging and functional apps for Apple's ecosystem.
How Much Does It Cost to Create an iOS App?
The cost of developing an iOS app can vary significantly, largely due to Apple's stringent quality standards for its iOS platform and App Store. Meeting these high standards requires a substantial investment in design, development, and rigorous testing. As a result, the costs associated with iOS app development may be higher compared to other platforms, reflecting the effort and resources dedicated to ensuring that each app delivers a premium user experience and adheres to Apple's exacting requirements.
What Are the Benefits of iOS Development?
One of the key advantages of iOS development is its renowned data security, making apps developed for this platform more stable and secure against cyber threats. iOS systems typically exhibit fewer vulnerabilities and security flaws, offering robust resistance to common cyber risks. This enhanced security is a significant factor, especially when compared to other platforms where apps might be more susceptible to malware and other security issues. Developing for iOS means prioritizing the safety and integrity of your app, ensuring a secure and reliable user experience.